Forthcoming

---

Office of International relation and studies (OIRS) is organizing an expert talk on "Understanding Geo-politics for International Business" on May 26, 2023
View More

Concluded

---

Office of International Relations and Studies (OIRS), The ICFAI University, Dehradun is organising an expert talk on "Portable water future challenges & mitigation strategies in special reference to India" on April 28, 2023

Notification of Award of PhD Degree
View More

Final Ph.D Viva Voce of Mr. Rajiv Sethi is scheduled on 25/01/2023
View More

The International Conference on Cyberlaw, Cybercrime & Cybersecurity, 2022, taking place from 23rd to 25th November, 2022, in cyberspace, is being organized by Cyberlaws.Net and Pavan Duggal Associates, Advocates, Supreme Court of India.
ICCC-2022 Brochure | ICCC-2022 Draft Agenda | ICCC-2022 List of Speakers

IBS organized 8 day FDP on "Advanced Research Methodology" from 1st July 2022 to 8th July 2022.

ICFAI Law School organized 8th International Yoga Day Celebration on 21st June 2022.

IBS organized Career Development - Power Plan on 21st June 2022.

IBS organized Thought Leader Session- Grant Thornton on 25th June 2022 for MBA - Class of 2023 & 2024.

Thesis Proposal Seminar of Mr. Amit Kumar Bera is scheduled on 27th June 2022.

IBS organized Session on "Perspective on the University" on 30th June 2022.

Pre-Ph.D. Seminar of Abhilasha Chauhan is scheduled on 16th June 2022


ICFAI Tech School organized "Teacher Knowledge Sharing Program" on 14th June 2022
View More

Pre-Ph.D. Seminar of Jasvinder Kaur is scheduled on 9th June 2022.
View More

Vice Chancellor, Prof. (Dr.) Ram Karan Singh invited as a Guest of Honour in a workshop on "Data Analysis using MS-Excel & SPSS Software" on 6th June 2022.

ICFAI Law School organized Quiz Competition on Environmental Law: 2nd Edition on 6th June 2022.

Vice Chancellor, Prof. (Dr.) Ram Karan Singh participated in Panel Discussion on "NEP 2020" in front of Dr. Dhan Singh Rawat, Minister of Higher Education of Uttarakhand on 4th June 2022.

ICFAI Education School organized " A talk in connection with the World Environment Day and International day for biological diversity" on 3rd June, 2022
View More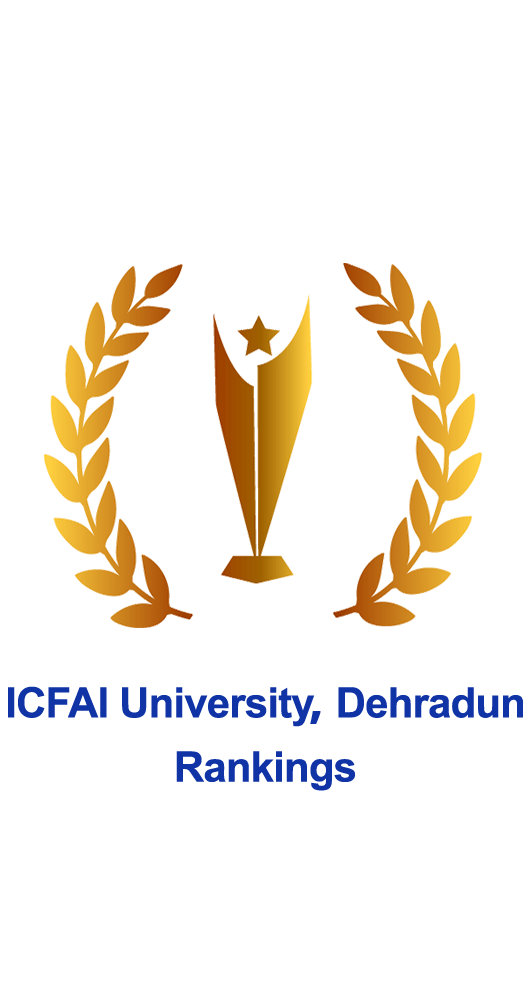 Ranked 31st
across India and is positioned in the 'Gold BAND' (Grade A) : Institution of Academic Excellence category
Outcome Based Education (OBE) - 2022
Ranked 40th
among Private and Deemed Multidisciplinary Universities in India
The WeekHansa Research Survey - 2022
Ranked 36th
among Top 100 Private Universities in India; & 1st in Uttarakhand
Education World University - 2022
ICFAI Business School (IBS)
Ranked 1st
in Uttarakhand under 'Top B Schools' and 13th under the category 'Top B-Schools of Eminence'
CSR-GHRDC B-Schools Survey
ICFAI Business School (IBS)
Ranked 1st
among 'Top Business Schools of Eminence in Uttarakhand', 17th in North India & 35th in India
Indian Institutional Ranking Framework (IIRF)
Ranked 1st
in Uttarakhand & 19th in India among Top Engineering Colleges
CSR-GHRDC Survey - 2022
Ranked 1st
in Uttarakhand, 7th in North India and 20th in the India among 'Best Engineering College (Pvt.)'
IIRF-2022
Ranked 5th
among Top Law Schools of Super Excellence & 1st in Uttarakhand (Govt. & Pvt. Law Schools)
CSRGHRDC Survey - 2022
Alumni Society
The University has established an Alumni Society. All students are required to seek membership in the society.
The provisional membership in the alumni body entitles the students to participate in seminars, workshops, conferences and local chapter activities organized by the society.
More Alumni
Mr. Amit Jha Babul
Associate Director, Standard Chartered Bank
IBS Business School Dehradun has shown me a positive direction towards my career.
Dr. Kumar Rahul
Data Scientist II, Amazon
There are some decisions you take in your life which pave the way for your success and you always feel proud of it.
Ms. Vinita Borneo
Advocate High Court
Graduating from Faculty of Law, The ICFAI University, Dehradun, does not only make oneself highly independent,
Ms. Ankita Singh
Senior Teacher, Shivalik Academy, Dehradun
I would like to say that the one year at the ICFAI University was one of the best periods of my life.