Case Study Focus

The ICFAI University, Dehradun uses the case method as a very important teaching and evaluation tool.

The case based learning is integrated as a dominant tool in the education methodology which reinforces the students' understanding of the concepts and their ability to apply them in real life business situations.

To be an effective professional, the student has to think and act like one. Thus, all the programs have a very strong case study orientation.

The University uses case studies of reputed Indian and international companies. These cases help the candidate understand the complexities in various business, political, legal and social environments.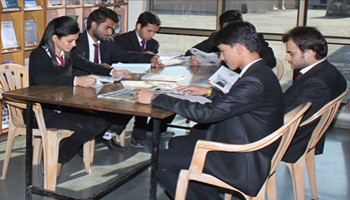 An Effective Learning Aid
A case is usually a depiction of a managerial situation or a dilemma that calls for the best possible plan of action given the available information, by allowing each student an opportunity to get into the shoes of the protagonist. The case method brings out the complex realities of problem solving and helps in developing the decision making capabilities of the students .
Advantages of Case based Learning
The case method develops the students' decision making skills. The case method of learning helps students to:
Develop skills in problem solving and decision making in complex business situations
Apply and test management concepts in real life and practical situations
Gain confidence in handling dynamic situations
Acquire valuable experiential learning through cases that simulate the business environment in a classroom.
Through a blend of Indian and international cases, students develop decision making skills by applying concepts to specific situations..
Learning through cases is like learning by doing. What one learns by doing, one remembers for a long time. The case study advantage offered by the University is a life-long advantage for the students.